Sean Eden, Kreativ Barchef i Americain på Haymarket by Scandic, tävlade under söndagen 25 april mot nio andra finalister i Diageo World Class Sweden och tog hem titeln "Bartender of the Year Sweden". Finalisterna fick i uppdrag att skapa en Johnnie Walker Black Label Whiskey Highball cocktail med temat Heritage.
Sean baserade sin cocktail på minnen från barndomen då han som nioåring kom till Sverige från England, en flytt till ett nytt land med helt nya smakupplevelser. Läsken Trocadero blev en favorit och inspirerade honom att skapa det vinnande bidraget "Läskeblask", en cocktail med smaken av äpple och apelsin tillsammans med en lätt rökighet av Johnnie Walker Black Label.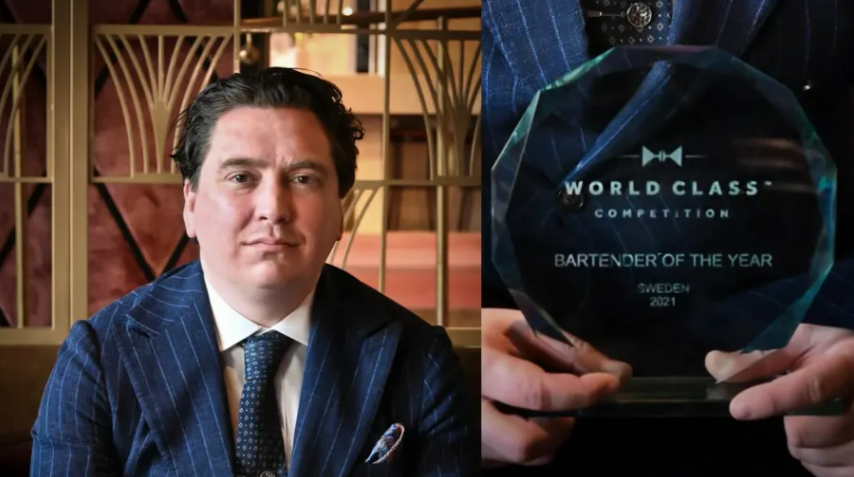 Juryns motivering löd:
Sean Eden presenterade sin Johnnie Walker Heritage Highball på ett personligt och professionellt sätt medan han delade med sig av en intressant historia kopplad till sin cocktail "Läskeblask". Han skapade en utomordentlig cocktail som framhävde smaken av Johnnie Walker på ett enkelt och elegant vis. Han visade verkligen prov på hårt arbete, kunskap, passion och äkta hantverk.
World Class är en av världens största och mest prestigefyllda bartävlingar och inkluderar över 60 länder. Den svenska finalen är nu avgjord och Sean kommer att representera Sverige i den globala finalen i Madrid den 5-8 juli i år. Varje tävling har ett satt tema där deltagarna tävlar i olika kategorier och bedöms av några av de mest respekterade namnen inom bartendervärlden.
Jag känner mig välsignad och stolt över att få representera Sverige i World Class Global 2021. Det har varit en ära att få vara en del av denna tävling med så otroligt talangfulla bartenders och jury. Det ligger stark passion och mycket historia bakom min cocktail "Läskeblask". Jag är oerhört glad över att det framgått.

Sean Eden, Bartender of the Year Sweden 2021
"Läskeblask" serveras numera i bar Americain på hotell Haymarket by Scandic i Stockholm.
Drinkreceptet på Läskeblask
50 ml Trocadero-syrup
200 ml kallpressad äppeljuice
100 ml sodavatten
0,5 g äppelsyra
Gör så här:
Kolsyra läsken i två omgångar. Använd en kolsyrepatron och låt sedan drycken vila i kylen 15 min. Tillsätt sedan en till patron och lägg i kylen 30 min. Häll sedan upp läsken i en glasflaska och sätt på kapsyl.
Trocadero-syrup:
250 g björksocker (xylitol)
200 ml kallpressad äppeljuice
100 g havtorn
0,7 g citronsyra
Zest från en hel apelsin
3 rökta och torkade klyftor rött äpple
Lägg allt i en vakuumpåse och töm på luft.
Tillaga sous vide på 58 grader i 12 timmar, finsila och låt kallna kylen.